Posts Tagged 'J. Craig Venter'

New Evolution Nightmare for Craig Venter
J. Craig Venter, best known for being the first to sequence the human genome in 2000, is recognized as one of the leading scientists of the 21st century. Ten years after his important accomplishment, Venter was credited for successfully recreating "the first synthetic species" in 2010 – named Mycoplasma laboratorium.
In his relentless pursuit to "understand the molecular and biological function of every gene in a cell," Venter released the latest findings discovered in his genetics research laboratory in Southern California. The paper, entitled "Design and Synthesis of a Minimal Bacterial Genome," was published on March 25, 2016 in the journal Science. The findings have emerged as a new genomic evolution nightmare for Craig Venter.
Continue Reading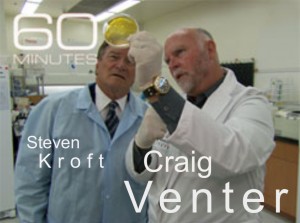 Critical of The Origin of Species, Charles Darwin in a letter to Hugh Falconer in October 1862, Darwin wrote, "I look at it as absolutely certain that very much in the Origin will be proved to be rubbish; but I expect and hope that the framework will stand." 
Darwin's conceptual framework of "slight, successive" changes over time had remained intact for 150 years, until the evidence from the human genome project delivered the decisive destruction of the original "framework".   
J. Craig Venter, the microbiologist turned entrepreneur that mapped the human genome and re-produced what he calls "the first synthetic species", concluded during a 60-Minute CBS interview with Steve Kroft on Sunday, November 21 that the human genome project has been a "bust". Continue Reading