Galapagos Icon of Evolution
In 1835, the Galapagos Islands piqued a young British naturalist's endless curiosity. Equipped with technologies not much beyond a clock, compass, measuring tape, scale, thermometer, clinometer, and a microscope, the experience eventually propelled Charles Darwin to propose a new world-shattering theory of evolution in his 1859 book–The Origin of Species. Since then, technological advances have been revolutionizing science and challenging more than just Darwin's theory of evolution.
For the first time, the genome of one of the most unique birds on the iconic islands, the cormorant (pictured), have been sequenced. Unique in that, of the more than forty known cormorant species in the world, the Galapagos Islands cormorant is the only species incapable of flying. To explore the genetic reasons, scientists at the University of California, Los Angeles, have been studying the genome of the flightless Galapagos cormorants associated with the bird's loss of flight – the new Galapagos icon of evolution.



Behavioral Evolution in the Red Fire Ant
The behavioral evolution in the red fire ant species with the two different types of colonies, one with a single queen and one with multiple queens, have long puzzled biologists. An invisible border seems to exist between the two. Queen ants happening to wander between colonies are quickly destroyed by the male ants. To understand what evolutionary mechanisms might be at play, molecular scientists have recently turned to the genome.
At Queen Mary University of London, a team of biochemists led by Rodrigo Pracana (pictured below) sequenced the whole genome in both colony types to examine the genetic difference between the two types of colonies – SB and Sb. Surprisingly, rather than finding "slight, successive changes" as predicted by Charles Darwin's theory of evolution, they discovered two the genes to be "highly divergent" from each other.


Whale Evolution Nightmare
Early northeast colonial settlers, William Bradford and Edward Winslow, in 1620 sent out a business prospectus: "Cape Cod was like to be a place of good fishing, for we saw daily great whales, of the best kind for oil and bone." The American whaling industry was just beginning. Two-hundred years later, New England was the premier whaling center in the world. More than 10,000 men set-sail on whaleships in 1857 from New Bedford, Massachusetts, alone.
Within the next 100 years, during the life-time of Herman Melville's mythical Moby Dick (illustrated), the whaling industry was forced to hunt deeper into the ocean and eventually into the southern Atlantic, leaving the north Atlantic population decimated. Since fewer than 100 were known to exist by 1935, whaling was globally banned in 1937. While the population is estimated to have finally increased to 500 in 2013, a Florida research team has uncovered that a genetic mutation is now forcing the whale population into extinction – a whale evolution nightmare.



New Study Model of Evolution
In the early 1900s, Thomas Hunt Morgan, Columbia University zoologist, was looking for an organism to test Charles Darwin's theory in the laboratory. Morgan was critical of Darwin's theory of natural selection. After learning of an easily-reproducible insect yielding hundreds of progeny every few weeks, Morgan thought that he had discovered a model by which to study evolution. Morgan was eventually awarded the Nobel Prize in Physiology or Medicine for demonstrating that chromosomes act as the carriers of inheritance in 1936.
Of the lion's share of laboratory research, Morgan's fruit flies became one of the most popular study models of evolution. After surviving through an unknown number of laboratory experiments, however, fruit flies are still fruit flies. "We are due for a renaissance," said Alejandro Sánchez Alvarado, a biologist at the Stowers Institute for Medical Research in Kansas City, Missouri in an interview with Quanta Magazine science writer Emily Singer. "We have narrowed our focus to a handful of organisms that statistically are highly unlikely to encompass the gamut of biological activity on the planet." The evolution industry is on a mission to find a new study model of evolution.

New Evolution Nightmare for Craig Venter
J. Craig Venter, best known for being the first to sequence the human genome in 2000, is recognized as one of the leading scientists of the 21st century. Ten years after his important accomplishment, Venter was credited for successfully recreating "the first synthetic species" in 2010 – named Mycoplasma laboratorium.
In his relentless pursuit to "understand the molecular and biological function of every gene in a cell," Venter released the latest findings discovered in his genetics research laboratory in Southern California. The paper, entitled "Design and Synthesis of a Minimal Bacterial Genome," was published on March 25, 2016 in the journal Science. The findings have emerged as a new genomic evolution nightmare for Craig Venter.
Continue Reading

 R2d2 Disses Darwin
R2D2, short for Artoo-Detoo, is best known as the fictional robotic character in the Star Wars universe series created by George Lucas. Inducted into the Robot Hall of Fame in 2003, R2D2 has since been included in the Smithsonian Institution list of 101 Objects that Made America. R2D2 is the good guy; the favorite character of George Lucas – known for always saving the day at least once in every film.
In the realm of biology however, the R2d2 gene is a Darth Vader villain terrorizing Darwin's once popular theory. R2d2's newly recognized function was published on February 15 in a paper in the journal Molecular Biology and Evolution by leading investigator Fernando Pardo-Manuel de Villena (pictured below), professor of genetics at the University of North Carolina School of Medicine. With a stealthy title, "R2d2 drives selfish sweeps in the house mouse," R2d2 disses Darwin with scientific evidence.
Continue Reading

Natural Selection Unfriends Darwin
Natural selection, sometimes known as the opium of the evolutionary biologists, has long been envisioned as the driving mechanism of biological evolution. "On the Origin of Species by Means of Natural Selection" by Charles Darwin was the first publication to popularize natural selection. In the words of twentieth century evolutionary biologist Niles Eldredge, "A century and a half ago, Charles Darwin offered the world a single, simple scientific explanation for the diversity of life on Earth: evolution by natural selection."
Scientific evidence, however, continues to challenge the importance of natural selection in evolution. Eugenie Scott, recipient of the 2012 Richard Dawkins Award, in Evolution vs Creation (2013) hedges on the "single, simple" role of natural selection: "The main—but not the only—mechanism of biological evolution is natural selection" New evidence discovered in a human genetics study underscoring why, in the end, natural selection unfriends Darwin. Read the rest of this entry »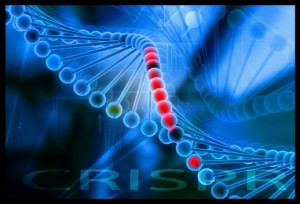 CRISPR, New Evolution Terror Risk
Microbes, once thought to be life's simplest forms, are now known to use complex synchronized genetic processing as a defensive system against foreign invading micro-organisms.
This microbe defense process presents a new terror threat on evolution's foundational belief of life emerging spontaneously from simple processes. In The Origin of Species, Charles Darwin envisioned life starting "from so simple beginning endless forms most beautiful and most wonderful." CRISPR poses a new risk terrorizing Darwin's culturally entrenched naïve theory. Continue Reading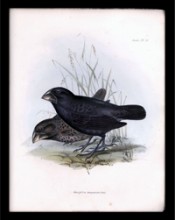 Darwin's Finches Fail Genetic Testing
The Galapagos Islands finches are an iconic symbol of Charles Darwin's theory of evolution. Yet, the actual scientific evidence validating Darwin's theory that "one [of these] species had been taken and modified for different ends" has long been questioned.
In the most comprehensive genetic investigation to-date, a team of scientists led by Sangeet Lamichhaney of Uppsala University in Sweden just published "Evolution of Darwin's finches and their beaks revealed by genome sequencing" in the prestigious journal Nature. The genetic evidence, once again, fails to demonstrate how "one species had been taken and modified."
Continue Reading

Snake Venom Snag
The genetics of snake venom driving evolution has recently emerged as a popular field of investigation. A new study published in the journal Molecular Biological and Evolution, however, has uncovered a critical new snag.
The evolution of snake venom had been hypothesized to originate through a gene duplication process followed by the actions of natural selection leading to increased venom toxicity over time. However, the research team lead by Todd Castoe (pictured), Assistant Professor of Biology at the University of Texas, has discovered a genetic snag challenging this once popular gene duplication theory. Continue Reading