The Darwin's were the Kennedy's of the nineteenth century—a powerhouse of influence.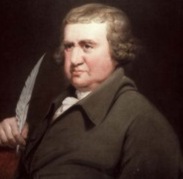 Darwin's grandfather, Erasmus Darwin, was a prominent and wealthy English physician. As a physician in Lichfield from 1756 to 1781, he acquired a reputation for being a great healer. He was so successful that King George III asked him to be his doctor, but Erasmus Darwin refused the appointment.
Erasmus was a noted naturalist, writer, poet, inventor, and founding member of the infamous Lunar Society. Lunar members were of influence, becoming the engine-driving force of the British Industrial Revolution.
As a writer, Erasmus authored several important works of poetry and science. His most important published work was a book entitled Zoönomia, Latin for "law of life," published in 1794. In Zoönomia, Erasmus endorsed the basic emerging tenets of evolution, asking the question in the affirmative – 
Would it be too bold to imagine that all warm-blooded animals have arisen from one living filament… continuing to improve by its own inherent activity, and of delivering down these improvements by generation