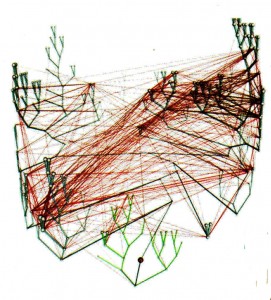 Darwin envisioned life evolving through "successive, slight modifications" by means of natural selection. Since the fields of molecular biology and genetics were not even conceived of in the nineteenth-century, Darwin theory was based on the modifications between the physical structure, known as morphology, of plants and animals. Later in the twentieth-century with advances in molecular biology and genetics, the full force of evolution was hoped to be discovered in the "successive, slight modifications" at the molecular level. 
 In concert with the "successive, slight modifications" in morphology, evolutionists have been driven to mirror the modification in morphology with modifications in molecular biology and genetics. David Hillis during the meeting of the Texas State Board of Education (TSBOE) that there is "overwhelming agreement correspondence as you go from protein to protein, DNA sequence to DNA sequence" when reconstructing evolutionary history using biological molecules. These branching sequences form what Darwin called the Tree of Life.
 Ironically, the cover story of the journal New Scientist published on the very day that Hillis testified before the TSBOE titled "Why Darwin was wrong about the tree of life," directly contradicts Hillis's statement. Eric Bapteste, an evolutionary biologist at the Pierre and Marie Curie University in Paris, France, "We have no evidence at all that the tree of life is a reality" and that "different genes [tell] contradictory evolutionary stories." The article concludes the tree of life falls apart when examining the sequencing of the genes and proteins.
 To reiterate, the basic problem is that one gene or protein yields one version of the "tree of life," while another gene or protein yields an entirely different tree. As the New Scientist article stated:
 "The problems began in the early 1990s when it became possible to sequence actual bacterial and archaeal genes rather than just RNA. Everybody expected these DNA sequences to confirm the RNA tree, and sometimes they did but, crucially, sometimes they did not. RNA, for example, might suggest that species A was more closely related to species B than species C, but a tree made from DNA would suggest the reverse."
 Leading evolutionary bioinformatics specialist W. Ford Doolittle explains, "Molecular phylogenists will have failed to find the 'true tree,' not because their methods are inadequate or because they have chosen the wrong genes, but because the history of life cannot properly be represented as a tree."