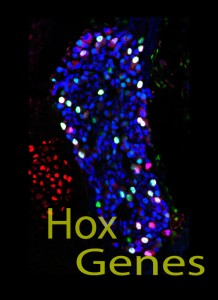 Following in the footsteps of Frenchman Jean-Baptist Lamarck, Charles Darwin in The Origin of Species introduced a revolutionary new theory of biological evolution with the concept of natural selection.
Lamarck had envisioned evolution acting through the "Progress in complexity… due to the influence of environment and of acquired habits". Darwin extended Lamarck's "Progress in complexity" theory with the new proposed natural law of evolution−natural selection: "This principle of preservation, I have called, for the sake of brevity, Natural Selection."
Evolution, since then, has been envisioned as a unidirectional preservation process of an unending increase in biological complexity; from microbe to man. New evidence from the HOX gene, however, undermines these fundamental tenets of evolution.
Last week, research paper published in Current Biology entitled "Ghost Loci Imply Hox and ParaHox Existence in the Last Common Ancestor of Animals" conclude that the absence of HOX genes in the sponge indicates evolution is a bi-directional process capable of simultaneously reducing as well as increasing biological complexity.
Researchers, led by David Ferrier of The Scottish Oceans Institute at the University of St Andrews, discovered that some modern-day animals like sponges evolved by losing the HOX and Parahox genes with reduced complexity.
Commenting on the findings, PhysOrg reports in the article "Research suggests that evolution sometimes meant becoming simpler not more complex," that, "modern day animals may have evolved instead by becoming less complex." Darwin and Lamarck would be stunned by the implications of Ferrier's observation.
According to PhysOrg, the Hox gene observations "contradict[s] the common perception of evolution – that creatures have advanced by becoming genetically more complex over time."
"The conventionally accepted view," Ferrier explained, "was that these genes were interlinked with the increasing complexity of animals as the earliest animal ancestors were succeeded by more advanced creatures, with a greater diversity of different cell types and a greater range of genes that build this gradual increase in complexity."
Hox and ParaHox genes are renowned for building the body structures of nearly all modern-day animals, invertebrates and vertebrates.  According to James A Shapiro of the University of Chicago, "the Hox complex can be compared to a specialized microchip dedicated to controlling morphogenesis from head to toe." Hox genes determine shape.
Rather than supporting the traditional evolution paradigms of the twentieth century, "our work provides a completely different view to the consensus that had developed over recent years," Ferrier acknowledged.
The evolutionary problems posed with the Hox and ParaHox genes specifically, and molecular biology in general, frames the reasons why a cohesive consensus theory of evolution continues to evade the evolution industry.
In the book Evolution, the Extended Synthesis, Massimo Pigliucci and Gerd Műller, as evolutionists, painfully recognize that "All of these molecular processes clearly demolish the alleged central dogma" of theoretical biological evolution promoted by the evolution industry over the past six decades.
As more scientific evidence becomes available, the prospects for developing a new comprehensive theory of evolution has reached the tipping point.
Alan C. Love of the University of Minnesota concludes "that a fully unified view of evolutionary processes may be out of reach….. [F]ollowing the advent of molecular biology has led to a centrifugal force within evolutionary research, making it difficult to recover a single big-picture or 'grand unified theory."
Evolution was once a theory in crisis, now evolution is in crisis with even a comprehensive theory even within the vast massively funded evolution industry.
One Response to "HOX Gene Undermines Evolution Tenets"