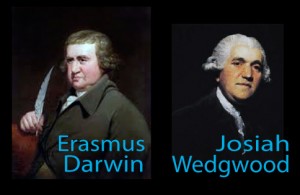 After graduating tenth out of a field of 178 students from Christ's College, University of Cambridge, Charles Darwin gradually, but surely, began to openly reflect his hostile and aggressive heritage against Christianity stemming from his grandfathers.
In the biography entitled Darwin, the Life of a Tormented Evolutionist, Adrian Desmond and James Moore sets the stage by declaring that "Charles Darwin's grandfather Erasmus had a lacerating wit and a loathing of meddling gods".
Erasmus (1731 1802) closest colleague was industrialist Josiah Wedgwood (1730- 1795). Their friendship developed into intermarrying over the next two generations. Charles Darwin, born in 1812 was the grandson of Josiah Wedgwood and Erasmus Darwin. Charles Darwin reflected their consummate heritage.
Erasmus Darwin adored the "Temple of Nature". Divineness was expressed in reason with progress as its prophet. The priestess of Nature holds even creation, according to Erasmus
Nurs'd by warm sun-beams in primeval caves

Organic Life began beneath the waves…

Hence without parent by spontaneous birth

Rise the first specs of animated earth.
Erasmus hated anything biblical, specifically creation. By contrast, Josiah followed a new form of Christianity known as Unitarianism. Striped y of the trinity, the divinity of Jesus, and the supernatural, Unitarianism was one last stop short of atheism.  In chiding Josiah, Erasmus dismissed his colleague's faith as simply "a featherbed to catch a falling Christian".
Erasmus was a contemporary giant. King George III (1760 to 1820) summoned Erasmus to be the king's Royal Physician. Erasmus, however, declined the offer. King George III was also defeated by the American Revolution in 1776.
As a writer, Erasmus authored works of poetry to espouse his vision on the world of nature. His most notable published work was a book entitled Zoonomia, Latin for "law of life," published in 1794. In Zoonomia, Erasmus entertains the essentials of evolution by asking the question:
Would it be too bold to imagine that all warm-blooded animals have arisen from one living filament, which the great First Cause endued with animality… possessing the faculty of continuing to improve by its own inherent activity, and of delivering down these improvements by generation to its posterity, world without end?
Erasmus was a brilliant bon viveur; enjoying the pleasures of life with a fatal attraction to women. After the death of his first wife, Mary Howard, died from gin-related liver failure at the age of 31 in 1770, Erasmus hired Mary Parker to look after their fourteen children, including Charles Darwin's father, Robert Darwin. Mary and Erasmus had two illegitimate children, Susanna and Mary Parker.
In 1775, Erasmus developed a new attraction to Elizabeth Pole, the wife of Edward Pole. Five years later when Edward Pole died in 1780, and Darwin married Elizabeth Pole. Erasmus and Elizabeth eventually had four sons, one of whom died in infancy, and three daughters.  Between Erasmus' two marriages and the Pole affair, Erasmus fathered a total of 23 children.
Josiah Wedgwood was a man of "mechanical Fame" who along with Erasmus were self-made Dissenters. Belonging to the emerging counter-culture, free-thinking and intellectual avant-garde, Erasmus and Josiah founded the Lunar Society for the like-minded.
When Joseph Priestly arrived in Birmingham in 1780 to serve as minister of the New Meeting House founded by the Lunar Society, they acquired a powerful ally in the leading Unitarian philosopher, chemist, and theologian.
Priestly had a profound effect on both the upcoming Darwin and Wedgwood generations. "Priestly's theology", according to Desmond and Moore, "was probably more influential, for it shaped the outlook of three generations of intermarried Darwins and Wedgwoods."
Priestly's aim was reformulate Christianity into a religion of universal happiness. Immortal souls do not exist anymore than immaterial 'spirits' in chemistry. Desmond and Moore renders Priest's theology:
Nor were miracles and mysteries like the Trinity and Incarnation part of his Christianity. God's benevolence is expressed in a wholly material world, where the laws of nature hold sway and everything has a physical cause.
The emerging materialism movement of the industrial revolution aligned with Priestly−life was simply envisioned as an extension of material causes setting the stage for the search for the natural laws of evolution.
By the 19th century, evolution had emerged as a hot and divisive issue. Erasmus' and Josiah's grandson, Charles Darwin, advanced the theory of evolution into main stream society along with a distinct distain for Christianity.
I can hardly see how anyone ought to wish Christianity to be true…  This is a damnable doctrine.
After more than 150 years since the publication of The Origin of Species, scientists have largely abandoned Darwin's theory that was specifically intended to undermine the Genesis account of the origin of life and Christianity.
In the word s of Lynn Margulis, American biologist, member of the National Academy of Sciences and recipient of the National Medal of Science awarded by President Bill Clinton,
Darwin's claim of 'descent with modification' as caused by natural selection is a linguistic fallacy.
Charles Darwin, following the "falling Christian" heritage to undermine the Genesis account, has since been a scientific failure.
Evolution was once a theory in crisis, now evolution is in crisis without a theory. Biological evolution exists only as a philosophy, not a science.
One Response to "Charles Darwin, Following the Heritage of a "Falling Christian""