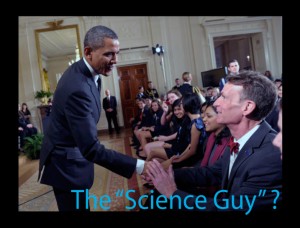 While on tour this summer to tout Obama's educational policies in New Hampshire, Hollywood science commentator Bill Nye poured more fuel on the firestorm of anti-creation sentiment noting that "Evolution is the fundamental idea in all of life science, in all of biology."
Nye was responding to questions on his views produced in the video entitled "Bill Nye: Creationism Is Not Appropriate For Children" posted on August 23.
"Nye then goes on, "according to ABC News correspondent Kevin Dolak in the article "Bill Nye 'The Science Guy' Hits Evolution Deniers", "to urge adults not to deny the teaching of evolution to young people."
Ironically, Nye is not aware creationists do not "deny the teaching of evolution". In fact, the teaching of evolution is advocated by creationists. Leading creation advocate, Ken Ham of Answers in Genesis, in the YouTube video entitled "Ken Ham Responds to Bill Nye 'The Humanist Guy'" notes that -
Creationists, of course, are every happy to teach their children about evolution and teach the problems with it, and how to teach their children to think critically, and the difference between historical science and observational science. Isn't it interesting how Christians are not frightened to teach their children about evolution?
Evolution skeptics, including creationists, embrace and are not frightened to retrace the history of evolution from Lamarckism in the early 18th century to Darwinism in the 19th century, neo-Darwinism in the early 20th century followed by the Modern Synthesis theory, also known as the Modern Evolutionary Synthesis, popular later in the century−each new theory of evolution undermining the previous theory.
By the 21st century, as the 150th anniversary of the publication of The Origin of Species by Charles Darwin in 2009 neared, Massimo Pigliucci of City University of New York and Gerd B Műller of  University of Vienna in an effort to re-establish a consensus for a comprehensive theory of evolution invited sixteen leading evolutionary scientists to a summit in Altenberg, Austria, at the Konrad Lorenz Institute for Evolution and Cognition Research during the summer of 2008.
Pigliucci and Műller set the challenge for the evolutionary scientists with the following introductory paragraph in the invitational letter
As you know because you have been involved in this to some extent, for some time now there have been persistent rumors that the Modern Synthesis (MS) in evolutionary biology is incomplete. Such suggestions have been received with skepticism by a number of biologists, including some of the very originators of the MS.
The media coined the summit "The Altenberg 16". While the prospect of establishing a new consensus for a comprehensive theory beyond MS quickly vanished, what became clear was MS as a comprehensive theory was certainly over.
Massachusetts Institute of Technology (MIT) published the findings, edited by Pigliucci and Műller, written by the sixteen guest in the book entitled Evolution, the Extended Synthesis. In the words of Eva Jablonka of Tel Aviv University and Marion J. Lamb of University of London,
Challenges to the Modern Synthesis have been coming from many directions, most notably from developmental biology, microbiology, ecology, animal behavior, and cultural studies.
According to Greg Wray of Duke University,
The dominate gene models that evolutionary biologists have used for decades are beginning to show their age… Progress in molecular biology has rendered the gene models used in all three of these areas of evolutionary biology outdated, and genomic data sets are pushing them past the breaking point.
To point out an example of the problem with the genetic basis of MS, Marc Kirschner of Harvard University and John C Gerhart of the University of California, Berkley, "We share 50% of our 21,000 genes with the fruit fly, and our genome is only about 50% larger"−evidence undermining MS fundamentals.
Kirschner and Gerhart advocate the concept of facilitated variation through 'constrained' and 'deconstrained' variations−a concept yet to gain traction.
In taking a broader theoretical approach, Wray advocates "drawing on a combination of methods from phylogenetics, population genetics, evolutionary genetics, molecular evolution, evolution ecology, and evolutionary development biology." In other words, evidence for evolution from any single disciple seems unlikely.
Stuart A. Newman of the New York Medical College, taking yet another approach, envisioned complex life-forms emerging through self-organization via the physical process of 'dynamical patterning modules'.
To put it bluntly, Gűnter P Wagner and Jeremy Draghi of Yale University opined in the next to the last chapter entitled "Evolution of Evolvability"
The factors affecting evolvability and the mechanism for the evolution of evolvability are poorly understood.
The final chapter of Evolution, the Extended Synthesis entitled "Rethinking the Structure of Evolutionary Theory for an Extended Synthesis" by Alan C. Love of the University of Minnesota starts the summary for the quest to develop a consensus on a comprehensive theory of evolution by quoting Jacque Monod (1975) –
[A] curious aspect if the theory of evolution is that everyone thinks he understands it. I mean philosophers, social scientists, and so on. While in fact very few people understand it, actually, as it stands, even as it stood when Darwin expressed it, and even as we now may be able to understand it in biology.
In lighting the problem with developing a comprehensive theory of evolution, Love quotes from others who have been skeptical of current evolution theories over the past two decades, including Dudley Shapere, Sean B Carroll, and Douglas Futuyma.
The outcome of the summit was summarized in the last chapter by Love –
My account also meshes with the recognition that a fully unified view of evolutionary processes may be out of reach.
Nye should recognize that evolution skeptics, even including creationists, do "not to deny the teaching of evolution to young people" since the validity problem of evolution only emerges through the studying and teaching of evolution as a science.
Evolution was once a theory in crisis. Now evolution is in crisis without a theory. Evolution is only a fact as a philosophy, not a science−a fact, ironically, unknown to Bill Nye the "Science Guy".
2 Responses to "Bill Nye, the "Science Guy" Irony"