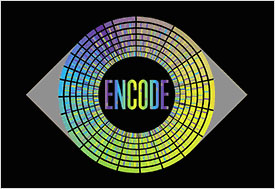 The term "junk DNA" was introduced in 1972 by evolutionary geneticist Susumu Ohno in the paper entitled "So Much 'Junk' in Our Genome" published in the book Evolution of Genetic Systems.
In a landmark book The Language of God (2006), geneticist Francis Collins advanced Ohno's concept of junk DNA as "powerful support for Darwin's theory of evolution" while serving as director of the National Center for Human Genome Research.

Collins received numerous awards and honors, including election to the Institute of Medicine and the National Academy of Sciences. He was a Kilby International Awards recipient in 1993. In 2007, he was presented with the Presidential Medal of Freedom. And, in 2008, he was awarded the National Medal of Science.
In 2009, Collins was appointed as Director of the National Institutes of Health along with an appointment by Pope Benedict XVI to the Pontifical Academy of Sciences. With a $2 million grant from the Templeton Foundation, Collins co-founded the BioLogos Foundation in San Diego, California, to advance the concept of theistic evolution or evolutionary creation which he prefers to term biologos. Collins has immense influence in the realms of science and religion.
Until recently, critics of the junk DNA paradigm have been largely shunned for good reasons; knowledge of DNA functions were still rudimentary, especially the apparently non-functional sections of DNA. Collins calls junk DNA "ancient repetitive elements" which, in his view, demonstrates the validity of Darwinian evolution.
For Collins, junk DNA is simply analogous Darwin's claim that rudimentary non-functional structures, like the appendix, is validating evidence for evolution.  The appendix, however like DNA, is no longer considered rudimentary or non-functional.
Over the last 10 years, an international consortium of 442 scientists has studied 147 different types of cells with 24 types of experiments. The specific goal was to catalogue every letter (nucleotide) within the genome with a biological function. The project was named ENCODE (Encyclopedia of DNA Elements). This massive project was launched in 2003 funded by the National Human Genome Research Institute (NHGRI).
By 2007, however, Rick Weiss reporting for the Washington Post on the emerging ENCODE developments noted that "for the first time that the vast majority of the 3 billion 'letters' of the human genetic code are busily toiling at an array of previously invisible tasks." The article Weiss was referring to an paper published in the journal Nature by Erika Hayden with the stunning new discovery that, rather than junk, "between 74% to 93% of DNA" had evidence of performing biologic functions.
Earlier this month, the consortium, published there long awaited findings ENCODE announced, in a coordinated set of 30 papers published in multiple journals, demonstrated why the once popular junk DNA theory has now reached the point of extinction. The publications, including six in Nature, six in Genome Biology and a special issue with 18 publications in Genome Research, reveal the stunning discovery that more than 80% of the human genome examined to date has a known biological function−not junk DNA.
Contrary to Ohno's and Collins presumption of non-functional DNA, evidence clearly demonstrates that the once presumed non-functional "ancient repetitive elements" of DNA stemming from ages genetic mutation and natural selection is not junk, but has known biological functions.
Segments of the evolution industry once ascribing much of DNA as useless genetic junk left over from eons of random mutations acted upon by natural selection, have been stunned to into silence by the scientific evidence.
While monitoring the emerging evidence, Collins changed his approach in his most recent book, The Language of Science and Faith (2011) by focusing on junk pseudogenes. However, two leading biologists Evgeniy Balakirev and Francisco Ayala from the University of California, Irvine, writing in the Annual Review of Genetics had report in the 2003 paper entitled"Pseudogenes, Are They 'Junk' or Functional DNA" have found that in "pseudogenes that have been suitably investigated often exhibit functional roles."
More recently, Ryan Pinkin and collegues 2011 in the article "Pseudogenes: Pseudofunction or Key Regulators in Health and Disease" in the journal RNA, paint the picture
Pseudogenes have long been labeled as "junk" DNA, failed copies of genes that arise during the evolution of genomes. However, recent results are challenging this moniker; indeed, some pseudogenes appear to harbor the potential to regulate their protein-coding cousins. Far from being silent relics, many pseudogenes are transcribed into RNA, some exhibiting a tissue-specific pattern of activation.
"Leading proponents of 'theistic evolution"", in the words of Casey Luskin published in the book Science and Human Origins, "like Francis Collins offer two primary genetic arguments for human/ape common ancestry… The argument from junk DNA fails because most non-coding DNA has important cellular functions and is not junk."
Evolution once a theory in crisis, is  now in crisis without a theory. Biological evolution exists only as a philosophy, not as a science.
One Response to "The Extinction of "Junk DNA""