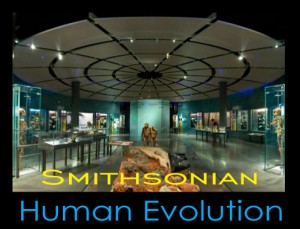 "Human evolution is the lengthy process of change by which people originated from apelike ancestors," according to the Smithsonian Institute presentation entitled "Introduction to Human Evolution".
The Smithsonian declares that the "[s]cientific evidence show that the physical and behavioral traits shared by all people originated from apelike ancestors and evolved over a period of approximately six million years." This forward sounding statement, however, is scientifically unsound.

Charles Darwin advanced the concept "that man must be included with other organic beings in any general conclusion respecting his manner of appearance on this earth." Amazingly, in The Descent of Man published in 1871, however, Darwin never identifies any hominoid connecting transitional links from the fossil record.
Darwin addressed the glaring lack of fossil record evidence only once. In Chapter VI, Darwin simply noted: "Nor should it be forgotten that those regions which are the most likely to afford remains connecting man with some extinct ape-like creature, have not as yet been searched by geologists." While Darwin's explanation was justifiable in 1871, it is not justifiable in the twenty-first century.
The beautifully displayed fossils at the Smithsonian give the impression that the fossils are connected, however, like Darwin never even speculate on how the fossils might be connected. The Smithsonian explains why -
Scientists do not all agree, however, about how these species are related [connected] or which ones simply died out. Many early human species — certainly the majority of them – left no living descendants. Scientists also debate over how to identify and classify particular species of early humans, and about what factors influenced the evolution and extinction of each species.
The Smithsonian follows the tradition of Darwin and never attempt to connect proposed transitional links for good reasons−transitional links do not exist. In the words of evolutionary biologist Richard Lewontin at Harvard University, the fact is "[n]o fossil species can be established as our direct ancestor".
"One could confidently expect that as more hominid fossils were found, the story of human evolution would become clearer. Whereas if anything, the opposite has occurred,"according to American Museum of Natural History paleontologists Niles Eldredge and Ian Tattersall.
"Most hominid fossils," as Stephen Jay Gould explains in the book Panda's Thumb, "even though they serve as a basis for endless speculation and elaborate storytelling, are fragments of jaws and scraps of skulls."
Harvard physical anthropologist Earnest Hooton noted that attempts of "alleged restorations of ancient types of man have very little, if any, scientific value and are likely only to mislead the public"−and they have.
Jerome Lejeune, geneticist from University of Paris, France lamented -
The neo-Darwinist is now reaching the point of dignity in the history of science that the Ptolemaic system in astronomy, the epicycle system, reached long ago. We know that it does not work. And that is interesting. Because from the actual structure of the chromosome we can demonstrate that the human species did not come from a progressive humanisation of a pre-human.
Geoffrey Clark from the University of Chicago opines, "Scientists have been trying to arrive at a consensus about modern human origins for more than a century. Why haven't they been successful?" The answer is obvious: the scientific evidence has created a vacuum for any story of human evolution from apelike ancestors.
"Modern apes, for instance, sprang out of nowhere," according to South African anthropologist Lyall Watson. "They have no yesterday, no fossil record. And the true origin of modern humans—of upright, naked, toolmaking, big-brained beings—is, if we are to be honest with ourselves, so equally mysterious matter."
In the new book entitled Science & Human Origins, Casey Luskin cuts to the chase: "Despite the hype promoted by many evolutionary paleoanthropologists, the fragmented hominin fossil record does not document the evolution of humans from ape-like ancestors."
The Smithsonian story of human evolution is founded on a philosophy, not upon evidence from any scientific discipline, including paleontology, embryology, molecular biology, or genetics.
The evolution industry exists within a scientific vacuum−not as a scientific fact.