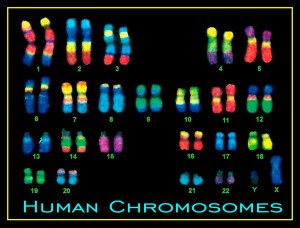 The theory of evolution as outlined by Charles Darwin in The Origin of Species (1859) is a continuous process of natural selection producing "slight, successive" changes over long periods of time resulting in the origin of new species. At the time, knowledge of chromosomes was sketchy, at best.
The general principles of chromosomal action were not discovered until 1875 by German biologist Oskar Hertwig while he was studying reproduction in sea urchins; three years after the last and sixth edition of The Origin of Species in 1872.
A chromosome is an organized structure of DNA and protein found in the nucleus of cells. As a single coil of DNA containing nucleotide sequences, genes, and regulatory elements, chromosomes only become visible under a microscope when they become tightly packed during cell division.
While humans have 23 chromosomes, chimps and other great apes have 24−a fact unknown and unfriendly for Darwin's theory. Chromosomal fusion has been a popular run-around explanation how Darwin's "slight, successive" evolutionary changes could have decreased from 24 to 23. American geneticist and current director of the National Institute of Health (NIH), Francis Collins, in the 2006 book entitled Language of God argues that Chromosome 2 fused during the process of evolution from ape to humans; reducing the number of chromosomes from 24 to 23.
However, to the question, what is the scientific evidence that Chromosome 2 resulted from the fusion of two chromosomes, the answer is that there isn't any.
The end region of each chromosome consists of thousands of repetitive nucleotide sequences. Telomere is the name given to the end of the chromosome. The telomere consists of the 6-base-pair sequence TTAGGG and is known to act as a buffer zone to deter the degradation of genes and conserve genetic information.
Telomeres are now also known to block chromosomes from fusing with each other or rearranging—abnormalities associated with the development of cancer.
The telomere was first discovered by Elizabeth Blackburn, working as a postdoctoral fellow at Yale University with Joseph Gall between 1975 and 1977 and published in 1978. In 2009, Blackburn along with Carol Greider, and Jack Szostak were awarded the 2009 Nobel Prize in Physiology or Medicine for the discovery of how chromosomes are protected by telomeres.
With the fusion of two chromosomes, then, one would expect a doubling of the thousands of the 6-base-pair sequences. However, at the alleged point of fusion evolutionary, biologist Daniel Fairbanks in the book entitled Relics of Eden: The Powerful Evidence of Evolution in Human DNA (2010) notes that rather than thousands of pair sequences, there are only 158 repetitive sequences; and, of the 158, only "44 are perfect copies."
Scientists, constrained by an evolutionary paradigm, have attempted to attribute the loss of the thousands of nucleotide bases to some yet unknown degenerative genetic process.  This presumed degenerative explanation was first proposed in a paper by Yuxin Fan and colleagues in an article entitled "Genomic Structure and Evolution of the Ancestral Chromosome Fusion Site in 2q12-2q13-2q14.4 and Paralogous Regions on Other Human Chromosomes" published in Genome Research (2002). To date, however, the mechanism of some selective degenerative process is still a purely presumptive speculation unsupported by scientific evidence .
Casey Luskin in the book Science & Human Origins points out why comparative evidence from chromosomes establishes a fundamental problem for a comprehensive theory of human evolution rather than a solution because "the alleged fusion point in chromosome 2 contains much less telomeric DNA than it should."
This degeneration in number and quality nucleotide sequences actually contradicts the biological conservation purpose of the telomere. "This argument [for human evolution] from chromosomal fusion," Luskin points out, simply "fails."
Counting the number of chromosomes in a species is recognized by geneticists as a dubious method for re-tracing any presumed evolutionary ancestral relationships. While the donkey has an estimated 31chromosomal pairs, humans have only 23. The fern plant has 5 times more chromosomes than humans – around 150 chromosomes. There is a disconnection between the number of chromosomes and Darwinian evolution through "slight, successive" changes.
Italian geneticist Giuseppe Sermonti in the book Why a Fly is not a Horse (2005) cuts to the chase:
Between chromosome number and evolution of species, it was immediately clear that no clear relationship exists.
The emergence of advanced scientific evidence continues to demonstrate that the concept of biological evolution stems from the realm of philosophy, not from the realm of science. A problem recognized by Darwin more than 150 years ago.
Evolution was once in crisis with a gene-centric theory. Now evolution is in crisis without any comprehensive theory.