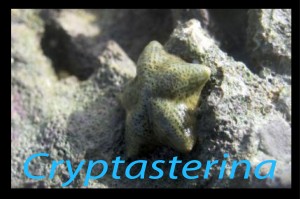 To explore the evolutionary mechanism between sister sea star species, a research team headed by Jonathan Puritz of Institute of Marine Biology at the University of Hawaii investigated the genetic and phylogeographic differences between the species living off the Australian coast in the Coral Sea.
The findings, published last week in the Proceedings of the Royal Society, undermine the fundamental tenet of Darwinian evolution−natural selection.
The two sea star sister species, Cryptasterina pentagona and Cryptasterina hystera have recently been recognized as distinct species.  These echinoderms are identical in appearance but live in different regions and differ in their mode of reproduction—one lays eggs, the other delivers via live birth.
"It's as dramatic a difference in life history as in any group of organisms," said Rick Grasberg, professor of evolution and ecology at UC Davis and coauthor, according to ScienceDaily.
It is because of their biological similarities, except for reproduction, the investigators theorized these two species could "represent the minimal level of modification for the evolution" of speciation—a micronized model of evolution to explore.
In The Origin of Species, Charles Darwin argued that "by the theory of natural selection all living species have been connected with the parent-species of each genus". Darwin proposed that new species are descendants from a common ancestor "by means of natural selection" –
On the theory of natural selection, we can clearly understand why she should not; for natural selection acts only by taking advantage of slight successive variations; she can never take a great and sudden leap, but must advance by the short and sure, though slow steps.
Natural selection can only act, according to Darwin, through "slight successive variations"−a slow, not a rapid process.  
The researchers looked at the diversity in DNA sequences from sea stars of both species and estimated the length of time since the species might have diverged. Contrary to Darwin's natural selection theory, the researchers concluded that speciation must have happened instantaneously about 6,000 years ago,
Here, we use new population genetic and phylogeographic analyses to investigate an extraordinary example of both geographically localized and geologically instantaneous evolution
Puritz suggests that speciation of C. pentagona and C. hystera may have occurred through disruptive selection, not natural selection –
Our results suggest that disruptive selection for different life-history phenotypes between sea stars in different habitats may be a short pathway to rapid evolutionary divergence and speciation.
This new scientific evidence from the sea stars further underscores why scientists have been criticizing the fundamental of Darwin's theory of evolution for more than 150 years. According to Swedish biologist Soren Lovtrup,
Today it is still commonly claimed that Darwin's natural selection is the evolutionary mechanism par excellence. However, this assertion is not based on any factual evidence.
Massimo Paittelli-Palmarini of the University of Arizona sums up the current state of natural selection:
The point is, however, that organisms can be modified and refined by natural selection, but that is not the way new species and new classes and new phyla originated.
Evidence from these Australian sea stars serves as yet another example why evolution, once a theory in crisis, is in crisis without even a cohesive theory.
The scientific evidence is more compatible with the origin of life account as recorded in Genesis than any theory of evolution.
8 Responses to "Sea Star Species Defy Darwin"