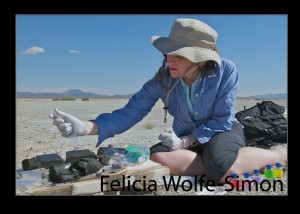 NASA astrobiology scientists In December 2010 announced the discovery of molecular evidence for life in an arsenic-rich environment.
Geomicrobiologist Felisa Wolfe-Simon, a NASA funded astrobiology fellow in residence at the US Geological Survey in Menlo Park, California, discovered a bacterium in 2009 from arsenic-rich sediments collected at the bottom of Mono Lake, California, U.S.A.
Mono Lake is hypersaline and highly alkaline with some of the highest natural concentrations of arsenic in the world. Although a few species of bacteria are known to use arsenic, arsenic is notoriously poisonous to multicellular life.
Wolf-Simon named the newly discovered arsenic using bacteria GFAJ-1 that stands for "Give Felisa a Job".
In association with the journal of Science publication entitled "A bacterium that can grow by using arsenic instead of phosphorus", NASA released the upcoming news media alert –
NASA will hold a news conference at 2 p.m. EST on Thursday, Dec. 2 [2010], to discuss an astrobiology finding that will impact the search for evidence of extraterrestrial life.
NASA reported that the tremendous new discovery which could "fundamentally change the knowledge about what comprises all known life on Earth".
Nick Graham science writer for the Huffington Post in the December 2010 article entitled "NASA Discovers New Life: Arsenic Bacteria with DNA Completely Alien to What We Know" reported -
The major finding announced today has fueled speculation recently that reached a fever pitch after the agency said that the finding 'will impact the search for evidence of extraterrestrial life'.
The Mono Lake discovery was a boon to the U.S. government supported NASA Astrobiology Program searching for the origin of life beyond Earth.
Claiming that arsenic in had replaced phosphorus in the DNA molecule, the NASA research team quickly found themselves on the defensive for stating in the report:
We report the discovery of an unusual microbe, strain GFAJ-1, that exceptionally can vary the elemental composition of its basic biomolecules by substituting [arsenic] for [phosphorus]… Our data show evidence for arsenate in macromolecules that normally contain phosphate, most notably nucleic acids and proteins".
Within days after Science published the report, the scientific community erupted with notable biologists finding major faults with Wolfe-Simon's methods and analysis.
Discover Magazine reported that "NASA effectively muzzled everyone who knew about the actual story while allowing speculation to build to fever pitch."
John Sutherland from the MRC Laboratory of Molecular Biology at Cambridge joined the skepticism noting that arsenic-based compounds are "not sufficiently stable in water for the phosphorus to arsenic substitution implied in this paper to be functional".
Microbiologist Rosie Redfield at the University of British Columbia, published a devastating critique of the paper, describing it as "lots of flim-flam, but very little reliable information." Redfield opined on her blog: "Their most striking claim was that arsenic had been incorporated into the backbone of DNA, and what we can say is that there is no arsenic in the DNA at all," says Redfield.
Five months later after the NASA announcement, Science published a list of concerns addressing the team's findings and methods.
Since then, biologist Rosie Redfield has attempted to reproduce the NASA experiment. In February of this year, Rachel Ehrenberg writing an article in Science News entitled "Arsenic-based life finding fails follow-up", reported on the unfolding fiasco with Wolfe-Simon quickly back-stepping -
Wolfe-Simon, who says she can't comment in detail until Redfield's results appear in a peer-reviewed journal, wrote in an email that her original paper never actually claimed that arsenate was being incorporated in GFAJ-1′s DNA, but that others had jumped to that conclusion. 'As far as we know, all the data in our paper still stand,' she wrote. 'Yet, it may take some time to accurately establish where the [arsenic] ends up.'
Steven Benner of the Foundation for Applied Molecular Evolution in Gainesville, Florida, noted in this Science News article to Ehrenberg that "Wolfe-Simon and her colleagues didn't do some experiments deemed obvious by other researchers, such as attaching a radioactive tag to the arsenate and locating exactly where it turned up in GFAJ-1's DNA".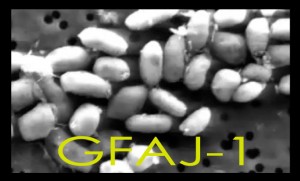 Joining the charge against the NASA's claim was Simon Silver, an arsenic microbiologist at the University of Illinois. After sequencing GFAJ-1, Silver noted in a 2011 Science interview with Elizabeth Pennisi that even the common gut bacterium, Escherichia coli, has more of the genes known to help it survive arsenic exposure than the newly discovered GFAJ-1. What Silver did not have was evidence that arsenic had not replaced phosphorous in the DNA molecule.
Early in July 2012 in the journal Science, two research papers from independent teams have settled the NASA astrobiology scandal, one American team headed by Redfield's and a Swiss team lead by Tobias Orb at the Institute of Microbiology in Zurich.
In the article entitled "Absence of Detectable Arsenate in DNA from Arsenate-Grown GFAJ-1 Cells", Redfield's team reported that "mass spectrometry showed that this DNA contains only trace amounts of free arsenate and no detectable covalently bound arsenate." This means that arsenic was found, but never replaced phosphorus on the DNA molecule.
"A few arsenylated compounds, including C6 sugar arsenates, were detected in extracts of GFAJ-1, when GFAJ-1 was incubated with arsenate, but further experiments showed they formed abiotically", Orb's team reported in the article entitled "GFAJ-1 is an Arsenate-Resistant, Phosphate-dependent Organism". "Taken together, we conclude that GFAJ-1 is an arsenate-resistant, but still a phosphate-dependent, bacterium."
Like the common bacteria Escherichia coli, the evidence demonstrates that GFAJ-1 can exist in a rich arsenic environment, but contrary to Wolfe-Simon's original claim, arsenic has never been shown to replace phosphorus in the DNA of the GFAJ-1 bacterium.
GFAJ-1 saga illustrates how ardent evolutionists in NASA have abandoned basic scientific principles, as did Charles Darwin in The Origin of Species, for the sole purpose of promoting evolution as a fact. Adherence to evolution ideology, not science, has scandalously tarnished the scientific credibility of NASA.
No wonder Jerry Fodor professor of philosophy at Rutgers University when asked about astrobiology in an interview with Suzan Mazur wasted no words:  "Astrobiology doesn't exist. What are the laws?" None exist.
Evolution was once a theory in crisis, now evolution is in crisis without even a theory.
4 Responses to "NASA Astrobiology Scandal"