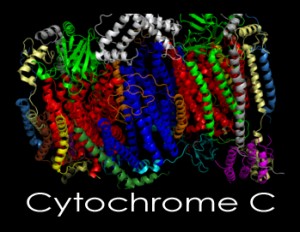 "If a biochemist is asked to identify the one enzyme which is most vital to all forms of life, he would probably name cytochrome c oxidase," according to American molecular biologist Earl Frieden at Florida State University.
Cytochrome c is the essential component of life's electron transport chain. Amazingly, unlike hemoglobin with one metal atom, iron, cytochrome c is even more complex, containing four metal atoms−iron, copper, zinc and magnesium.
Given the importance to life and ubiquitous distribution throughout the animal kingdom, from the unicellular to the most complex of species, cytochrome c oxidase alone with hemoglobin quickly emerged as the favorite molecules to trace the steps of evolution starting in the mid-twentieth century.
Cytochrome C is uniquely composed of about the same number of about 100 amino acids throughout the animal kingdom with nineteen amino acids occurring in exactly the same sequence. Identifying differences in the sequence of other amino acids between species quickly became the center of interest in retracing the evolutionary "successive, slight" changes as conceived by Charles Darwin in The Origin of Species.
Early evidence from cytochrome c gave credence to Darwin's theory. Between the man and dog, a difference of only 5% was discovered compared to a 13% difference between man and carp, a fresh water fish. From an evolutionary perspective, the initial evidence aligned with the concept that the dog should be more closely related to man than the fish.
The race was on.  Armed with the new technological advances in the field of molecular biology to sequence amino acids, evolutionary scientists began to accumulate a library of cytochrome c amino acid sequences from different species for the purpose of re-tracing the "slight, successive" changes to form the proposed evolutionary Tree of Life using molecular evidence−from microbe to man.
In 1972, Margaret Dayhoff, working as a pioneer in this emerging field alongside Carl Sagan, published known sequences in a matrix, which is now known as the Dayhoff Atlas of Protein Sequences and Structure, now known as the Protein Information Resource located at Georgetown University Medical Center.
Commenting on the sequence matrix by the 1980's, Australian molecular biologist Michael Denton noted that "the most striking feature of the matrix is that each identifiable subclass of sequences is isolated and distinct …All the sequences of each subclass are equally isolated from the members of another group. Transitional or intermediate classes are completely missing from the matrix." In short, the absence of "successive, slight" molecular changes in cytochrome c contradicts the fundamental tenets of evolution.
Cytochrome c, as we now know, does not demonstrate the "slight, successive" evolutionary changes Darwin had envisioned the framework of his theory. An evolutionary Tree of Life cannot be retraced with cytochrome c−life's most vital enzyme.
On the molecular level, species are unique−not transitional. Scientific evidence for any species acting as a gateway to a sequence of other species simply does not exist−even within the realm of molecular biology.
As molecular biologist Richard Dickerson from the University of Minnesota later explained, the "more one approaches the molecular level in the study of living things, the more similar they appear, and the less important the differences between, for instance, a clam and horse become."
Reflecting on the evidence, Denton aligned with the emerging scientific disappointment in Darwin's theory:
As more protein sequences began to accumulate during the 1960s, it became increasingly apparent that the molecules were not going to provide any evidence of sequential arrangement in nature, but were rather going to reaffi rm the traditional view that the system of nature conforms fundamentally to a highly ordered hierarchic scheme from which direct evidence for evolution is emphatically absent.
Rather than displaying evolutionary sequences in proteins, the cytochrome c matrix demonstrates the unlinked uniqueness of each species. Evidence for protein sequences linking species together is missing. While a gradual evolution of cytochrome c was expected through "successive, slight" transitional changes in amino acids from species to species, the matrix demonstrates a mosaic pattern, not an evolutionary pattern.
The matrix demonstrates that each species is equal in distance in terms of protein sequences from their most likely ancestor—even the bacteria.
Astoundingly, Denton noted that starting from the bacteria, "organisms as diverse as man, lamprey, fruit fly, wheat and yeast, all exhibit a sequence divergence of between sixty-four percent to sixty-seven percent from this particular bacterial cytochrome … this must be considered one of the most astonishing findings of modern science [from an evolutionary perspective]."
Denton and Dickerson are certainly not lone molecular biologists. Eminent Italian geneticist Giuseppe Sermonti, editor of the longest-running biology journals in Europe, playing on words, weighed-in: "from a biochemical standpoint the horse and the horsefly are essentially the same".
"Molecular evolution is not based on scientific authority," Michael Behe professor of biochemistry at Lehigh University in Pennsylvania and as a senior fellow of the Discovery Institute's Center for Science and Culture explains. "There is no publication in the scientific literature—in prestigious journals, specialty journals, or books— that describe how molecular evolution of any real complex, biochemical system either did occur or even might have occurred. There are assertions that such evolution occurred, but absolutely none are supported by pertinent experiments or calculations. Since no one knows molecular evolution by direct experience and since there is absolutely no authority on which to claim knowledge … the assertion of Darwinian molecular evolution is merely bluster."
According to W. Ford Doolittle from Stanford University, molecular biology has "failed to find the 'true tree,' not because their methods are inadequate…, but because the history of life cannot properly be represented as a tree." The dream of finding a molecular Tree of Life using cytochrome c, or any other biological compound, remains only as an illusive evolutionary dream.
Evolution was once a theory in crisis. Now, the emerging new technologies have been forcing theories of evolution to a tipping point facing extinction−a molecular nightmare.