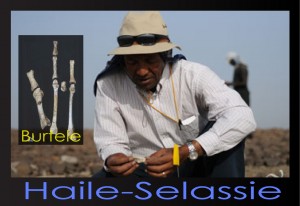 A newly discovered fossil from eastern Africa further complicates theories on the evolution of humans.
In the same area where the infamous Lucy fossil was discovered by Donald Johanson and Tom Gray in 1974, a team lead by Yohannes Haile-Selassie of the Cleveland Museum of Natural History unearthed a partial foot from the Woranso-Mille area of the Afar region of Ethiopia, an area locally known as Burtele. The results were published last week in the journal Nature.
The foot, however, is unlike the foot of Lucy, otherwise known as Australopithecus afarensis, a presumed early ancestor of humans. Until formally named, this new species has been named Burtele.
The finding, however, rather than clarifying, further complicates theories on human evolution since the anatomies of Lucy and Burtele feet are very dissimilar and co-existed based on carbon dating evidence. Dissimilarity and co-existence is a problem for evolution that undermines Charles Darwin's theory of natural selection.
In The Origin of Species, Darwin speculated that "much light will be thrown on the origin of man and his history." However, new species through natural selection was envisioned to cause the extinction, not co-existence:
The theory of natural selection is grounded on the belief that each new variety and ultimately each new species, is produced and maintained by having some advantage over those with which it comes into competition; and the consequent extinction of less-favoured forms almost inevitably follows… Thus extinction and natural selection go hand in hand.
Since Lucy or Burtele co-existed, only one could be a human ancestor−not both, complicating the drawing of a Tree of Life for human evolution. "There was indeed more than one early hominin species during that time," explained Haile-Selassie in an interview with the National Science Foundation (NSF).
Haile-Selassie further noted that "the Burtele foot differs from Australopithecus afarensis largely by possessing an opposable great toe."
"Carolyn Ehardt, program director for Biological Anthropology at NSF, points out that research findings such as this foster appreciation for the complex processes that 'shaped the evolutionary history of our species'" the NSF article further explained. Ehardt's comment on the "complex processes" of evolution statement, amazingly underscores the problem with evolution−the lack of evidence for a cohesive Tree of Life.
Any human evolutionary picture is complicated according to NSF, since "the Burtele foot has some skeletal ratios that fall within the human and gorilla distribution, but outside those of chimpanzees. In addition, the metatarsal of the fourth toe is longer than that of the second toe, a condition seen in some monkeys and Miocene apes."
"This discovery was quite shocking," said co-author and project co-leader Dr. Bruce Latimer of Case Western Reserve University in an interview posted on Science Daily. "These fossil elements represent bones we've never seen before. While the grasping big toe could move from side to side, there was no expansion on top of the joint that would allow for expanded range of movement required for pushing off the ground for upright walking."
"We need more fossils to determine what sorts of bodies went with these feet," wrote Daniel Lieberman, an evolutionary biologist at Harvard University, in a commentary in last week's Nature. The new evidence complicates, not clarifies, evidence for a cohesive Tree of Life as proposed by Darwin.
In 1859, Darwin was frustrated with the evidence from the fossil record: Why then is not every geological formation and every stratum full of such intermediate links? Geology assuredly does not reveal any such finely graduated organic chain; and this, perhaps, is the most obvious and serious objection which can be urged against my theory.
One hundred years later, in 1959, paleontologist Gaylord Simpson concluded that "They [species] are not, as a rule, led up to by a sequence of almost imperceptibly changing forerunners such as Darwin believed should be usual in evolution."
The "fossil record had caused Darwin more grief than joy," Stephen J. Gould pined in 1980 in the legendary book The Panda's Thumb.
Berkley evolutionary biologist F. Clark Howell, in 1996 concluded: there "is no encompassing theory of [human] evolution…. Alas, there never really has been."
In the same year, Ann Gibbons, correspondent for the Science magazine, reflected on the ever increasing mystery of presupposed human evolution: "The story of human evolution has lately become as complicated as a Tolstoy novel."
The chief science writer for Nature, Henry Gee declared "hominid evolution—[is] as mysterious as ever".
Now, more than 150 years after the publication of The Origin of Species, evidence to support human evolution is even less clear as they were in 1859.
The new Burtele fossil finding highlights the mosaic design of nature and why evolution, once a theory is crisis, is now is in crisis without even a theory.