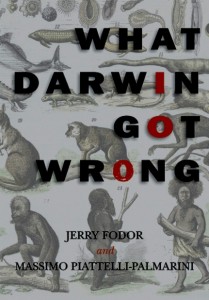 In the search of a natural law for evolution, Charles Darwin employed a theory he coined "natural selection".
The importance Darwin gives to natural selection is highlighted in the complete title of The Origin of Species: On the Origin of Species by Means of Natural Selection and the Preservation of Favoured Races.
Darwin envisioned natural selection as the driving force of evolution – the "means", the proposed natural law, driving the origin of species. In Darwin's words: "I have now recapitulated the facts and considerations which have thoroughly convinced me that species have been modified, during a long course of descent. This has been effected chiefly through the natural selection of numerous successive, slight, favourable variations." The key attributes Darwin of natural selection include successive and slight changes.
While Darwin coined the concept, the general concept of natural selection, while popular at the time, the theory was divisive even within Darwin's inner circle of evolution colleagues.  These inner-circle critical colleagues included Charles Lyell, Joseph Hooker, Asa Gray, and Thomas Henry Huxley.
In 1860, the year following publication of the first edition, Darwin pined that "[Charles] Lyell and [Joseph] Hooker, though they would listen with interest to me, never seemed to agree. I tried once or twice to explain to able men what I meant by Natural Selection, but signally failed."
Thomas Huxley, the consummate avant-garde of evolution of the time, was very critical of natural selection: "You have loaded yourself with an unnecessary difficulty in adopting natura non facit saltum so unnecessarily." Natura non facit saltum is Latin for "nature does not make jumps"–the essence of Darwin's theory of natural selection through slight and successive changes.
Sensing the reluctance of Asa Gray at Harvard University, one of the most influential botanist at the time, Darwin hedged on the value of natural selection:
I am inclined to look at everything as resulting from designed laws, with the details, whether good or bad, left to the working out of what we may call chance. Not that this notion at all satisfies me. I feel most deeply that the whole subject is too profound for the human intellect. A dog might as well speculate on the mind of Newton. Let each man hope and believe what he can.
At times, Darwin expressed deeper skepticism of natural selection, noting in The Origin of Species that "natural selection … is by far the most serious special difficulty which my theory has encountered" even to the point of sympathy with critics of natural selection: "I have felt the difficulty far too keenly to be surprised at others hesitating to expand the principle of natural selection to so startling a length."
Division over natural selection continued into the twentieth century. Conrad Hal Waddington, leading early twentieth century British geneticist, recognized the inherent problem with even the concept of natural selection envisioned by Darwin:
There, you do come to what is, in effect, a vacuous statement: Natural selection is that some things leave more offspring than others; and you ask, which leave more offspring than others; and it is those that leave more offspring; and there is nothing more to it than that.
"Natural selection may explain the survival of the fittest," explains Hugo de Vries, an earlier twentieth century geneticist, "but it cannot explain the arrival of the fittest."
In blunter terms, Colin Patterson, senior paleontologist at the British Museum of Natural History pined that "No one has ever produced a species by the mechanisms of natural selection. No one has ever got near it, and most of the current argument in neo-Darwinism is about this question: how a species originates. And it is there that natural selection seems to be fading out, and chance mechanisms of one sort or another are being invoked."
In 1998, even Jerry Coyne, a steadfast ardent defender of Darwinism and author of Why Evolution is True, recognizes the problems facing natural selection:
We must stop pretending we understand the course of natural selection.
According to Italian geneticist Giuseppe Sermonti, "Natural Selection, which indeed occurs in nature…, mainly has the effect of maintaining equilibrium and stability". Equilibrium and stability are opposing forces to evolution.
Lynn Margulis awarded the National Medal of Science Award by President Bill Clinton in 1996, is no fan of natural selection or Darwinism.In an interview with journalist Suzan Mazur, Margulis said "Darwin was brilliant to make 'natural selection' a sort of godlike term, an expression that could replace 'God', who did it—created forms of life. However, what is natural selection' really? … Natural selection is intrinsically an elimination process."
Jerry Fodor of Rutgers University and Massimo Piattelli-Palmarini of the University of Arizona in the book What Darwin Got Wrong cuts to the chase: "Darwin's theory of natural selection is fatally flawed".
Division over natural selection has continued into the twenty-first century. After 150 year, natural selection is no longer considered the driving force of evolution.
Evolution, once a theory in crisis, is now in crisis without a cohesive a theory.
One Response to "Division over Natural Selection"