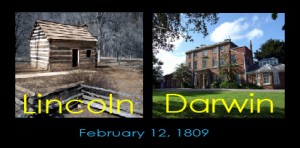 On February 12, 1809, 203 years ago Abraham Lincoln and Charles Darwin were born on the very same day. Today, while both are honored on their countries' paper currency, Lincoln on the U.S. five-dollar bill and Darwin on the English ten-pound note, they were born into two different worlds, with two different destinies.
America was bracing for a civil war. England was on the verge of entering the Victorian era and the height of the Industrial Revolution with an unprecedented prosperity.
Abraham Lincoln was born in a one-room Kentucky log cabin. Charles Robert Darwin was born in a legendary estate. Lincoln was destined to free the American slaves; Darwin was destined to intellectually free minds from a divine creation.
While both Lincoln and Darwin opposed slavery, they differed dramatically on the origins of man. In the Gettysburg Address in November 1863, Lincoln declared –
Four score and seven years ago our fathers brought forth on this continent a new nation, conceived in liberty and dedicated to the proposition that all men are created equal.
By contrast, the subtitle of The Origin of Species summarizes Darwin's view on the origin of man:
The Preservation of Favoured Races in the Struggle for Life
Darwin clearly promotes "Favoured Races", the essence of racism.  Discarding creation, in The Descent of Man Darwin speculates that the origin of man evolved from the gorilla and chimpanzee -
It is therefore probable that Africa was formerly inhabited by extinct apes closely allied to the gorilla and chimpanzee; and as these two species are now man's nearest allies.
Amazingly, this evolutionary origin of man theory was actually popular at the time in England, even within the Church of England. Charles Kingsley, one of England's leading clergymen just a year after the release of The Origin of Species in 1859 in a letter after traveling through Ireland wrote -
I am haunted by the human chimpanzees I saw along that hundred miles of horrible country. … To see white chimpanzees is dreadful; if they were black, one would not feel it so much, but their skins, except where tanned by exposure, are as white as ours.
In the words of the late evolutionist Stephen J. Gould -
Biological arguments for racism may have been common before 1850, but they increased by orders of magnitude following the acceptance of evolutionary theory.
Lincoln sought the emancipation of men from men, and Darwin sought the emancipation of men from God.
Lincoln liberated the salves. Darwin empowered the social movements of Nazism and Communism. Lincoln died a martyr while Darwin died in misery−contrasts of notoriety and global consequences.
One Response to "Lincoln & Darwin, Contrasts of Notoriety and Consequences"