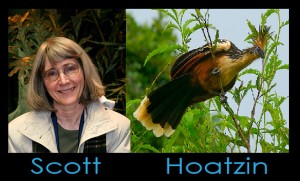 Eugenie Scott, anthropologist and director of the National Center for Science Education in Oakland, California and recognized as one of the nation's leading defender of evolution in public education, advocates a model of evolution marketing that uses and avoids specific terms.
One term to use is "accept" and one word to avoid is "believe".
Once a Christian Scientist and now one of the leading plaintiffs in the Dover Trial, Scott, now preferring to be called a non-theist rather than an atheist, said in an interview with Science News writer Susan Milius to the question "So you urge scientists not to say that they "believe" in evolution" –
Right. What your audience hears is more important than what you say.… What [people] hear is that evolution is a belief, it's an opinion, it's not well-substantiated science. And that is something that scientists need to avoid communicating. You believe in God. You believe your sports team is going to win. But you don't believe in cell division. You don't believe in thermodynamics. Instead, you might say you "accept evolution.
For Scott, the ultimate evolution marketing killer term is "belief". "Accept" is OK, but it is not OK to "believe".
The term "revolutionize" should be avoided when presenting new discoveries, according to Scott. To the question "How does the language used to discuss new discoveries add to the problem" pose by Milius, Scott replied -
To put it mildly, it doesn't help when evolutionary biologists say things like, 'This completely revolutionizes our view of X.' Because hardly anything we come up with is going to completely revolutionize our view of the core ideas.
"You can say that this fossil or this new bit of data sheds new light on this part of evolution", but not "revolutionize" according to Scott. This distinction is important for the evolution industry especially when new discoveries contradict known theories of evolution. "Shedding new light" is Scott's hoodwinking phrase now rampant within the evolution industry.
In the recent Science Daily article "Across the Atlantic on Flotsam: New Fossil Findings Shed Light on the Origins of the Mysterious Bird Hoatzin", a team comprising German, Brazilian and French scientists, from the Senckenberg Research Institute Frankfurt unable to explain from an evolutionary perspective how two related birds existed at the same time on the African and South American continents employed Scott's "sheds light" rule.
To work around this glaring Darwinian problem, the authors speculated that "either the continents were once connected by land, or the distribution took place directly across the water."
In the words of Gerald Mayr and his colleagues from Brazil and France, "We assume that the bird crossed the Atlantic upon drifting flotsam."
Really? When is the last time birds have been observed on a floating on rafts drifting across the ocean? Use of Scott's "sheds new light" marketing in the title is simply a hoodwinking smoke screen over reality to confuse the gullible.
The facts are clear, fabricating birds crossing the oceans on rafts, using "accept" rather than "believe", and using "shows new light" rather than "revolutionize" highlights the depths the evolution industry desperation to ignore reality.
Charles Darwin's theory of evolution continues to be challenged by the scientific evidence. Evolution adherents have been using Scott's wordsmithing marketing strategies in an attempt to blur the facts that undermine evolution. The Hoatzin bird is the latest example why Darwin's biogeographical theory of evolution is contradicted by the evidence. Scott's evolution marketing model should only be used by disparate used car salesmen – not in science.
Evolution was once a theory in crisis, now evolution is in crisis without a theory.