In a letter to Sir Joseph Dalton Hooker, his closet friend in 1857, Charles Darwin confided,
I cannot swallow Man [being that] distinct from a Chimpanzee.
Charles Darwin writes in his Autobiography,
My Descent of Man was published in Feb. 1871. As soon as I had become, in the year 1837 or 1838, convinced that species were mutable products, I could not avoid the belief that man must come under the same law
The chimp, since the nineteenth century, has been the poster-child missing link to humans. In twenty-first century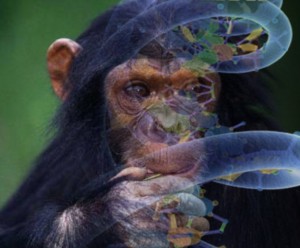 terms, the mammalian Y chromosomes were expected to be similar, as speculated by Darwin. However, new evidence demonstrates Darwin's speculation to be wrong—the chimp Y chromosome differs radically from humans.
The British journal Nature published a paper in January 2010 titled, "Chimpanzee and Human Y Chromosomes are Remarkably Divergent in Structure and Gene Content," found that Y chromosomes in the chimp and humans "differ radically in sequence structure and gene content". In fact,
More than 30% of the chimp Y chromosome lacks an alignable counterpart on the human Y chromosome
Jennifer F. Hughes led the research team at the Whitehead Institute for Biomedical Research, one of the world's leading centers for genomic research, is located in Cambridge, Massachusetts. The research team concluded –
By comparing the MSYs of the two species we show that they differ radically in sequence structure and gene content
"By conducting the first comprehensive interspecies comparison of Y chromosomes," ScienceDaily noted, "Whitehead Institute researchers have found considerable differences in the genetic sequences of the human and chimpanzee Ys… The results overturned the expectation that the chimp and human Y chromosomes would be highly similar. Instead, they differ remarkably in their structure and gene content."
The original chimp genome sequencing completed in 2005 largely excluded the Y chromosome because its hundreds of repetitive sections had typically confound standard sequencing techniques. The chimp Y chromosome is only the second Y chromosome to be comprehensively sequenced.
 Wes Warren, Assistant Director of the Washington University Genome Center, noted
These findings demonstrate that our knowledge of the Y chromosome is still advancing.
Earlier comparative studies between the chimp and human genome had centered on DNA regions that only result in the production of proteins. In addition, not only is the chimp DNA 12% larger than human DNA, the Chimp has 23 chromosomes while humans have only 22 (excluding sex chromosomes in both species).
While the researchers advance the concept that "divergence" from the Chimp occurred 6 million years ago, the more logical explanation is that the chimp is simply a distinct species.
The research was funded by the National Institutes of Health (NIH) and the Howard Hughes Medical Institute (HHMI)