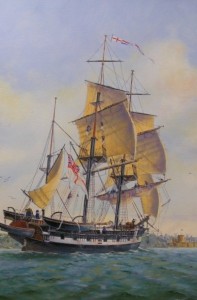 Charles Darwin recorded in his autobiography that The Origin of Species "is no doubt the chief work of my life. It was from the first highly successful. The first small edition of 1,250 copies was sold on the day of publication, and a second edition of 3,000 copies soon afterwards. Sixteen thousand copies have now (1876) been sold in England and considering how stiff a book it is, this is a large sale."
While it is unknown how the 1,250 copies could have been sold on "the day of publication" without Amazon.com, what is known is that Darwin was famous long before the publication of the first edition of The Origin of Species in 1859.
Charles Darwin was following in the tradition of his grandfather, Erasmus Darwin—author of the infamous Zoönomia. King George III even asked Erasmus to be his doctor, but he refused the appointment—too busy.
Erasmus was building a vast network of associates that became known as the leading social and philosophical lights. With contacts like Matthew Boulton, Josiah Wedgwood, and James Watt, Erasmus established the Lunar Society that became the main intellectual powerhouse of the Industrial Revolution in England.
By the time Charles Darwin entered Edinburgh University, Zoönomia (meaning "the law of life" in Latin) had become a popular poetry and science textbook. At Edinburgh University, Charles Darwin learned that his professor, Robert Edmund Grant, quoted from Zoönomia for his doctoral thesis. 
Just months after returning from the voyage on the HMS Beagle in February 1837, and before starting working on what is now known as The Origin of Species, Darwin was elected to the Council of the Royal Geographical Society, later accepting Darwin accepted the position of Secretary of the Society in March 1838. Darwin was elected as a Fellow of the Royal Society in January 1839. The Geographic and Royal Society institutions were reserved for the intellectual elite—only.
The Darwin's in the eighteenth century has been likened to the Kennedy's of the nineteenth century. Darwin's notoriety can even be seen at play during the voyage of the HMS Beagle. By British custom, the ship's surgeon traditionally took the position of the official "naturalist." Darwin's role was to be a "gentleman's naturalist" and assist the ship's surgeon, Robert McKormick, and Captain FitzRoy. 
On shore in Brazil, however, it was the 22-year old Charles Darwin, not Doctor McKormick, who began receiving all the notoriety and the invitations from dignitaries on shore. Reasonably, McKormick felt upstaged by Darwin. Being sufficiently disgruntled, McKormick left the Beagle at Rio de Janeiro. McKormick's status was "invalided out" back to Britain.
In 1859, not only was the topic of evolution was "in the air", Darwin's word was like E.F. Hutton speaking. The timing was perfect. Darwin's pre-Origin notoriety preceded the successful launch of one the most influential and contentious books ever in the history of science.