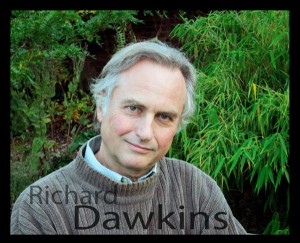 Eryn Brown, writing for the Los Angeles Times, published an article last week entitled "Richard Dawkins discusses evolution, religion and his fans" based on an interview over coffee at the chic Mondrian Hotel on the Sunset Boulevard in West Los Angeles.
To the question "what scientific work are you particularly interested in today," Dawkins replied, "I'm fascinated by the idea that genetics is digital. A gene is a long sequence of coded letters, like computer information. Modern biology is becoming very much a branch of information technology."  
"Can having all that data change the study of molecular biology and evolution" Brown then asked. "It's hugely more data to work from," Dawkins said. "You really can compare letter by letter. The complete tree of life should be gettable, if only we could sequence everything, and that's limited only by money and time"−a purely deceptive distortion of the facts.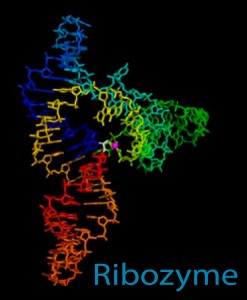 Scientists at the University of North Carolina at Chapel Hill and the University of Vermont lead by senior investigator Charles W. Carter, Jr., challenge in The Journal of Biological Chemistry the increasingly popular RNA world hypothesis in the paper "Aminoacylating urzymes challenge the RNA world hypothesis."
Since the publication of The Origin of Species by Charles Darwin in 1859, evolutionary scientists have been increasingly pressured to discover a natural explanation for the origin of life−the holy grail of evolution.
Darwin proposed that life arose from a chemical soup. "It is often said that all the conditions for the first production of a living organism are now present, which could ever have been present.— But if (& oh what a big if) we could conceive in some warm little pond with all sorts of ammonia & phosphoric salts," Darwin argued in a 1871 letter to Joseph Hooker, "—light, heat, electricity &c present, that a protein compound was chemically formed, ready to undergo still more complex changes."  A natural mechanism for the origin of life has since continued as evolution's "big if."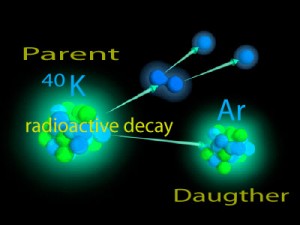 Radiometric dating is one of the most popular techniques used to establish the age of materials, like stones and bones.  Reported dates often fall in the million or billions of years. However, questions surround the validity of radiometric dating−for good reasons. 
The Public Broadcasting Service (PBS) recently ran the story "1.8 million-year-old skull may revise understanding of human evolution." Since the skull was unearthed in a medieval ninth century A.D. village in the former Soviet Republic of Georgia known as Dmanisi, the obvious question centers on the validity of the million year radiometric dating of the skull found within the same geological stratum as the medieval ninth century A.D. village.
What's driving the demand for millions of years dating; is it science or is it theory? Without question, the theory of evolution from a single cell to a sophisticated carnivore demands millions and billions of years−not thousands of years.  This prerequisite was recognized by evolutionists even before Charles Darwin published The Origin of Species in 1859.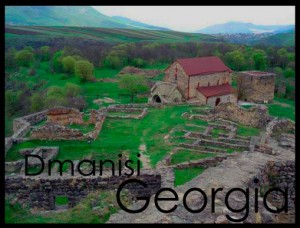 International teams of paleoanthropologists for more than two decades have been discovering human-like fossils from a medieval archaeological site in the former Soviet Republic of Georgia known as Dmanisi. The first four human-like fossils were discovered in 1991 by David Lordkipanidze of the Georgian National Museum in Tbilisi.
Increased archaeological interest in this Georgian site began in 1936 following the discovery of ancient and medieval artifacts. The discovery of teeth from  an extinct rhino in 1983 followed by the discovery of stone tools in 1984 lead to increased archaeological and paleontological interest in Dmanisi. Last week the discovery of a fifth Dmanisi skull reported in the journal Science fuels the escalating dilemma of the struggling human evolution industry.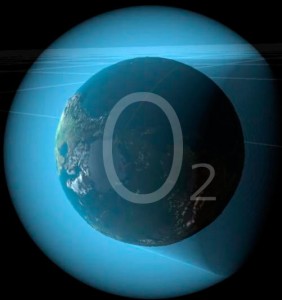 The scourge of evolution has re-emerged−this time with renewed vengeance.  Scientists have long known that extremely low levels of free-oxygen [< 10-5] atmosphere on early Earth is critical for any viable origin of life model of evolution.
Atmospheric concentration of oxygen in the origin of life controversy stems the laws of organic chemistry. The autonomous assembly of complex organic molecules has only been observed in an oxygen-free atmosphere.  
Geophysicists Stephen C. Meyer of the University of Cambridge notes in Signature in the Cell that "even a small amount of atmospheric oxygen will quench the production of biologically significant building blocks and cause biomolecules otherwise present to degrade rapidly." Oxygen-free has not always been an evolution scourge, however.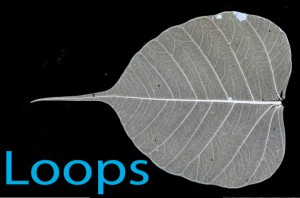 As a student at Christ' College in Cambridge (1827-1831), Charles Darwin is reportedly given his first microscope by one of his insect collecting friends, John Maurice Herbert. Today, scientists use satellite nanoscopes to study intracellular molecular dynamics and signaling networks between cells.
While loop networks have long been used in architecture, their discovery in biology is credited to Uri Alon of the Weizmann Institute on Science. In 2002, Alon published a by entitled "Network motifs in the transcriptional regulation network of Escherichia coli" in the April edition of the journal Nature Genetics. These loop networks, however, present yet more challenges to the theory of evolution.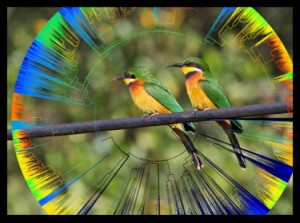 In the first edition of The Origin of Species by Charles Darwin published in 1859, his "geographical distribution" proposal for the emergence of new species was presented in two chapters−11th and 12th, both entitled "Geographic Distribution."
In Darwin's own words, the emergence of new species was "chiefly grounded on the laws of geographical distribution, that forms now perfectly distinct [species] have descended from a single parent-form," Geographical distribution and "isolation… is an important element in the modification of species through natural selection." Until now, however, Darwin's theory had been largely unchecked and unchallenged.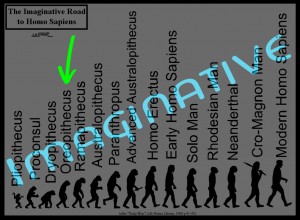 The origin of the human evolution concept into modern western civilization is largely credited to The Origin of Species by Charles Darwin published in November 1859. Ironically, while arguing for the evolution of new species from existing primitive species, Darwin only addressed the topic of human evolution in one sentence: "Light will be thrown on the origin of man and his history." 
Darwin's small spark ignited a raging fire lasting now more than 150 years. Stemming from scientific technological advances, Darwin's fire is facing the inevitable prospect of being extinguished – estimated to be 60 to 80 pounds, Oreopithecus bambolii is the latest example.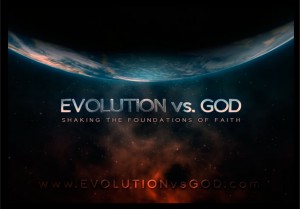 A young earth evangelist, using simple questions, stumped leading university professors turning common anti-creation arguments back against evolution in a new video entitled Evolution Vs. God.  
Jovial quick-witted Ray Comfort, a New Zealand born southern Californian street evangelist, turned the infamous claim that "faith is the great cop-out, the excuse to evade the need to think and evaluate the evidence" of ardent evolution atheist Richard Dawkins to demonstrate that the essence of evolution is a faith, not a scientific fact.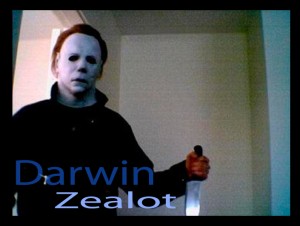 The zealot-side of the Darwin lobby emerged with a reign of terror following the public announcement of British writer Jane Austen (1775-1817) scheduled replacement of Charles Darwin (1812-1882) on the British 10 pound note. Darwin started to appear on the 10 pound note in 2000.
Austen will join nurse Florence Nightingale starting in 1975 on the 10 pound note and prison reformer Elizabeth Fry starting in 2002 on the 5 pound note as the third women to appear on a British banknote since historical figures began featuring on paper money in the 1970s.
On July 24, the Bank of England announced removing Charles Darwin from the British 10 pound note beginning in 2017. Shortly after the announcement, the supporters of the change were bombarded with rape and death threats – the vast majority came via Twitter.