Longest Evolution Experiment Dead-End
The industry's longest-running research experiment reached a milestone in October studying the evolution of more than 68,000 generations. Biologist Richard Lenski started the now legendary experiment in his laboratory early in 1988 with just 12 flasks seeded with genetically identical bacteria known as Escherichia coli (E. coli). The bacteria have since been growing in a carefully measured solution of glucose, a type of sugar – "food" for bacteria.
Each flask contained just a sparse amount of glucose to create a stressful environment along with a high concentration of citrate, a molecular close cousin of glucose, pushing the bacteria to evolve. Every day, since 1988, Lenski's laboratory team has transferred a small sample into new 50 mL Erlenmeyer flasks. Although wanting to quit this laborious experiment many times, Lenski has continued this process non-stop for over 30 years – now recognized as the industry's longest evolution experiment dead-end.



Evolution, Not What They Once Said
The armored dinosaur fossil preserved in exquisite detail unearthed in a western Canadian oil sand mine highlights the new daunting challenges facing the theory of evolution. This stunningly preserved fossil is shattering long-standing paradigms. "The more I look at it," said Michael Greshko science writer for National Geographic, "the more mind-boggling it becomes."
Caleb Brown (picture-right), a paleobiologist at the Royal Tyrrell Museum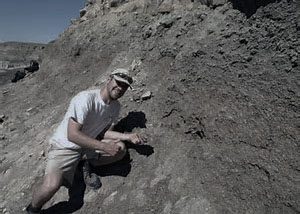 where the fossil was placed on exhibit in August, explained to Greshko, "We don't just have a skeleton… We have a dinosaur as it would have been." The museum is host to one of the largest dinosaur collections in the world. Now the fossil, known as Borealopelta markmitchelli (pictured), has the evolution industry struggling to place a new species in the mythical world of biological evolution, not what they once said it should be.



Galapagos Icon of Evolution
In 1835, the Galapagos Islands piqued a young British naturalist's endless curiosity. Equipped with technologies not much beyond a clock, compass, measuring tape, scale, thermometer, clinometer, and a microscope, the experience eventually propelled Charles Darwin to propose a new world-shattering theory of evolution in his 1859 book–The Origin of Species. Since then, technological advances have been revolutionizing science and challenging more than just Darwin's theory of evolution.
For the first time, the genome of one of the most unique birds on the iconic islands, the cormorant (pictured), have been sequenced. Unique in that, of the more than forty known cormorant species in the world, the Galapagos Islands cormorant is the only species incapable of flying. To explore the genetic reasons, scientists at the University of California, Los Angeles, have been studying the genome of the flightless Galapagos cormorants associated with the bird's loss of flight – the new Galapagos icon of evolution.


Ancient Fungal Clues
Ancient fungal clues recently discovered off the coast of South Africa further stretch the boundaries of the theory of evolution. Birger Rasmussen, a geology professor at the Western Australian School of Mines, was drilling at a depth of 2,600 feet for the purpose of dating the ancient submarine lava in the Ongeluk Formation estimated to be 2.4 billion years old in Northern Cape Province of South Africa when he unexpectedly noticed what appeared to be microfilaments (pictured).
"I was startled to find a dense mesh of tangled fossilized microbes," Rasmussen said in an interview with LiveScience writer Jerry Redfern last month. To Marlowe Hood writing for Phys.org, Rasmussen recalled that "My attention was drawn to a series of petrified gas bubbles, and when I increased the magnification of the microscope, I was startled." The bubbles were "filled with hundreds of exquisitely preserved filaments that just screamed 'life.'" In the words of Science Alert writer Peter Dockrill, "It's raising some big evolutionary questions."



Behavioral Evolution in the Red Fire Ant
The behavioral evolution in the red fire ant species with the two different types of colonies, one with a single queen and one with multiple queens, have long puzzled biologists. An invisible border seems to exist between the two. Queen ants happening to wander between colonies are quickly destroyed by the male ants. To understand what evolutionary mechanisms might be at play, molecular scientists have recently turned to the genome.
At Queen Mary University of London, a team of biochemists led by Rodrigo Pracana (pictured below) sequenced the whole genome in both colony types to examine the genetic difference between the two types of colonies – SB and Sb. Surprisingly, rather than finding "slight, successive changes" as predicted by Charles Darwin's theory of evolution, they discovered two the genes to be "highly divergent" from each other.



Origin of Bioluminescence
Bioluminescence is woven into folklore legends. From the 8th century Japanese firefly legend known as hotaru, to Fox an Apache American Indian who spread fire over the Earth during festive dance with fireflies, the world-wide wonder of bioluminescence is interlaced throughout the expanse of nature from the microbe to vertebrates.
"Researchers," however, "have long wondered how bioluminescence came to be," wonders science writer Steph Yin in the Quanta Magazine article entitled "In the Deep, Clues to How Life Makes Light."
To explore the science of ancient legends, evolutionary biologist Matthew Davis at St. Cloud State University in Minnesota, published the results of their study in the paper entitled "Repeated and Widespread Evolution of Bioluminescence in Marine Fishes" in the journal PLoS One (2016). Despite the inference in the title, however, evidence for the origin of bioluminescence continues to stymie scientists.



Bacteria Evolution
The shape of bacteria has long been anticipated to correlate with movement. From an evolutionary perspective, form is predicted to follow function – but, had yet to be tested. In the words of evolutionary geneticist Fouad El baidouri, "despite a few pioneering attempts to link bacterial form and function, functional morphology is largely unstudied in prokaryotes [bacteria]."
Now in a landmark study published in Nature, Ecology & Evolution, a research team lead by El baidouri from the University of Lincoln in the United Kingdom Elizabeth Allen explains in Phys Org, "the shape of bacteria does not influence how well they can move – this is the surprising finding… The findings refute long-held theories that there should be a strong link between the evolution of shape in bacteria and their ability to move."


Whale Evolution Nightmare
Early northeast colonial settlers, William Bradford and Edward Winslow, in 1620 sent out a business prospectus: "Cape Cod was like to be a place of good fishing, for we saw daily great whales, of the best kind for oil and bone." The American whaling industry was just beginning. Two-hundred years later, New England was the premier whaling center in the world. More than 10,000 men set-sail on whaleships in 1857 from New Bedford, Massachusetts, alone.
Within the next 100 years, during the life-time of Herman Melville's mythical Moby Dick (illustrated), the whaling industry was forced to hunt deeper into the ocean and eventually into the southern Atlantic, leaving the north Atlantic population decimated. Since fewer than 100 were known to exist by 1935, whaling was globally banned in 1937. While the population is estimated to have finally increased to 500 in 2013, a Florida research team has uncovered that a genetic mutation is now forcing the whale population into extinction – a whale evolution nightmare.



New Study Model of Evolution
In the early 1900s, Thomas Hunt Morgan, Columbia University zoologist, was looking for an organism to test Charles Darwin's theory in the laboratory. Morgan was critical of Darwin's theory of natural selection. After learning of an easily-reproducible insect yielding hundreds of progeny every few weeks, Morgan thought that he had discovered a model by which to study evolution. Morgan was eventually awarded the Nobel Prize in Physiology or Medicine for demonstrating that chromosomes act as the carriers of inheritance in 1936.
Of the lion's share of laboratory research, Morgan's fruit flies became one of the most popular study models of evolution. After surviving through an unknown number of laboratory experiments, however, fruit flies are still fruit flies. "We are due for a renaissance," said Alejandro Sánchez Alvarado, a biologist at the Stowers Institute for Medical Research in Kansas City, Missouri in an interview with Quanta Magazine science writer Emily Singer. "We have narrowed our focus to a handful of organisms that statistically are highly unlikely to encompass the gamut of biological activity on the planet." The evolution industry is on a mission to find a new study model of evolution.


Bird Eye Random Regularity
The mystery behind the superiority of bird eye sight over humans is now more mysterious than ever. Joe Corbo, staring into the eye of a chicken seven years ago, saw something startling carpeting the retina. Rather than randomly distributed color-sensitive cones, like in humans, Corbo observed a uniform distribution of the cones – a pattern previously unrecognized in birds.
Science writer, Natalie Wolchover, in A Bird's-Eye View of Nature's Hidden Order published in Quanta Magazine in July reported that while cones were remarkably uniform in distribution, the actual cone locations seemed haphazard. "The dots' locations followed no discernible rule, yet never seemed too close or too far apart" – a strange mix of bird eye random regularity. Continue Reading